How to Deal with a Frozen Lock
Unlocking Frozen Locks – Tips from Your Denver Locksmiths
Bitter winds and plummeting temperatures can cause locks to freeze. Whether it's the lock on the front door or a car door lock, a frozen lock is extremely frustrating. If you find yourself facing a frozen lock this winter, keep these quick and easy tips from your Denver locksmith in mind to combat the ice.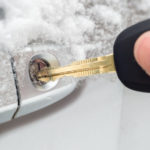 Call Your Denver Locksmiths at CSP
Dealing with a frozen lock is fairly easy, but it does come with some risk, and it's important to exercise caution and common sense. If you don't want to run the risk of breaking your key or damaging your lock or vehicle, contact Colorado Security Products. Our Denver locksmiths can help with frozen locks in Denver, and they're available 24/7 for emergency locksmith service.