Need an Emergency Locksmith in Denver?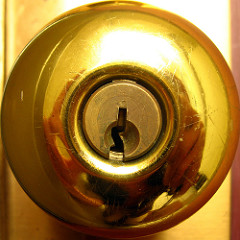 Are you in a bind, wondering, "Where can I find an emergency Denver locksmith near me?" If you're in Denver or the surrounding areas, our locksmiths from Colorado Security Products will be there soon. Just give us a call, as for an emergency locksmith in Denver, give your specific location, and we'll send the nearest locksmith to you fast. Before you know it, your problem will be solved and you can get on with your day.
Home Locksmith in Denver
Are stuck wondering, "How did I even get locked out of my house?" Stop worrying and give us a call. We'll be the "locksmith near me" that you've always wanted. As soon as you call, we'll send a home locksmith in Denver to your location, open your house, and get you inside fast. We won't make you wait around but will be on our way as soon as possible. Don't let getting locked out of your house ruin your day.
Have you had a recent break-in or do you believe your locks may be compromised? Call us as soon as you realize you don't feel safe at home and we'll send our emergency locksmith out to you fast. Before you know it, we'll have new locks on your doors and the keys in your hand so you can feel safe and secure at home again. If you want to raise your home's security levels, we can do that, too. We are the Denver locksmith that you need.
Car Locksmith in Denver
"Oh no! I'm locked out of my car. Again!!"
If this is you, don't panic. Just call Colorado Security Products, the "locksmith near me" no matter where you are in Denver. We'll send out a car locksmith in Denver to your specific location. Before long, we'll have your problem solved. If your key is in the car, we'll open the door and get it out. If it's not working or it broke off in the lock, no problem! No matter what has happened with your vehicle, we'll get you into it and get you a key that works again!
Stop worrying about auto lockouts when you have the car locksmith from Colorado Security Products on your side. All you need to do is give us a call, tell us your location, and your emergency locksmith in Denver will be on the way soon enough. Before you know it, your problem will be solved and you won't have to worry anymore.
Whether you need a home locksmith or a car locksmith, our Denver locksmiths will get to you quickly, assess the problem, then get to work solving it for you. We'll let you know how much service will be upfront and we never add on service charges or hidden fees. We know that many people hesitate to call an emergency locksmith because they worry about the cost. Call now and we'll get there soon!