Need A Locksmith Now in The Denver Metro Area?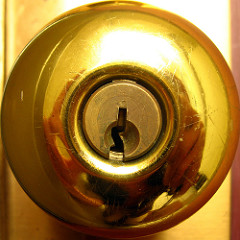 When you find yourself in need of an emergency locksmith in Denver, it's easy to feel frustrated and overwhelmed. Instead of drowning in your feelings, though, you can call us at Colorado Security Products instead. We offer a 24-7 locksmith in Denver, so we can respond to all of your locksmith needs, no matter when they occur.
Emergency Locksmith Services
While our Denver locksmith is happy to look at anything you need, there are a few problems we commonly see when we go on emergency calls. Here are just a few of the reasons you can call us.
● You're locked out of your car. Maybe you left the keys inside it accidentally or you thought they were in your pants pocket but they fell out. No matter the cause, we can help you get back into your car. We can also help you get another key, though we may direct you to the dealer for some makes and models. We'll make sure you are safe and taken care of before we leave.
● You're locked out of your house. Miscommunications happen more often that you might have thought. If you end up locked out of your house, don't worry. Call your emergency locksmith now in Denver and we'll get you back inside soon. If you need to have more keys made, we can help facilitate that, too.
● You need to open a safe. Did your safe accidentally get reset or did someone steal or lose the keys? We'll get the safe open so you can access your valuables, your inventory, or your cash reserves. We can also help you set a new combination or get a new safe with new keys to keep everything secure.
● Your locks got broken or compromised. Did you come home to find that your home had been broken into? Not only is that violating, but it can feel like you aren't safe anywhere. Call your emergency locksmith in Denver to get new locks on your doors fast. We'll help you feel safe and secure at home again. We can also help you find solutions to protect your valuables so they aren't vulnerable again in the future.
When you call CSP as your 24-7 locksmith in Denver, rest assured that our prices are fair and the price you're quoted is the price you'll pay. We don't believe in hidden charges or extra fees, because they make everyone's life more difficult. Our solid customer base has trusted us for years, and they can testify to our honesty and upfront pricing.
Sometimes it seems like you never need a Denver locksmith when it's convenient. In fact, it may seem like all of your lockouts and lock problems occur at night, over the weekend, or even on a holiday. The next time that happens, though, don't worry. Colorado Security Products is your locksmith, now in Denver and the surrounding areas. We'll be there for you when you need us! Call now and we'll get there soon!