Choosing the Right Safe for Your Home
When you want to safeguard important documents like birth certificates, passports and tax records along with impossible-to-replace things like family photos, a home safe is your best bet. Relatively inexpensive, a safe can protect the things that are most important to you from theft, fire, etc. When shopping for a safe, there are several options to choose from and certain factors to take into consideration. Finding one that suits your needs isn't always easy, so we've put together this guide to help you choose the right safe for your home.
Things to Consider When Buying a Home Safe
What Type of Protection Do You Need?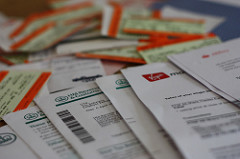 Most home safes are designed to protect their contents from theft, fire or both. There are also some that provide protection against water damage. Determining which perils you need to safeguard is the first step in choosing a safe that properly meets your needs.
For most homeowners, fire protection is the main concern. According to the National Fire Protection Association, there's about a one in four chance of experiencing a house fire that's serious enough to warrant calling the fire department during your lifetime. With those odds, it's not surprise that fir protection is one of that main things homeowners look for when purchasing a safe.
If you're looking for a fireproof safe, pay close attention to the ratings. Most are designed to provide up to 30 minutes of protection at certain temperatures, but there are models that rated to hold off fire for an hour or longer. If you are primarily using your safe to protect documents, look for one that is rated to stay below 350 degrees inside during a fire. If you're storing computer disks or DVDs, look one with an interior that will not exceed 125 degrees.
Many safes do not have independent ratings for burglary resistance, though they provide a degree of theft protection. Burglars tend to take what is easy to grab and exit the home as quickly as possible. A 1.2 to 1.3 cubic-foot safe weights upwards of 100 pounds, making it less than appealing to most home intruders. Safes that are tested for burglary resistance are rated depending how long they can withstand an attack. A safe that is rated TL-15, for example, can withstand up to 15 minutes of attacks using typical tools. For an additional degree of theft prevention, look for a safe with a bolt-down kit to make your safe less easy to pick up and carry away.
Pricing
A small fire chest only costs around $25 while large safes that provide maximum protection cost hundreds of dollars – or more. A safe that measures roughly 1.2 to 1.3 cubic feet will set you back around $150 to $300, depending on its features. Figure out how much you can afford to spend, and choose the safe that offers the greatest number of features for your investment.
Placement
Where you plan on keeping your safe could play a big role in what one you choose. If you plan on keeping it on your closet, you'll need a smaller one than would fit in a larger area. If you are thinking about keeping your safe in your basement, features like water protection become more important. Think about how much space you are willing to dedicate to housing your safe, and consider any hazards that may impact it in your chosen location.
Investing in a safe is a good way to protect important documents and irreplaceable memories. Choosing the right one is important, though, as it ensures that the contents within will be protected from a range of hazards. If you are in the market for a new home safe, we can help. At Colorado Security Products, we offer a complete range of safes for all applications, and we have budget friendly safes to protect your valuables without breaking the bank. Contact us at Colorado Security Products today to learn more. Call us at 303-756-1000 to speak with an expert.